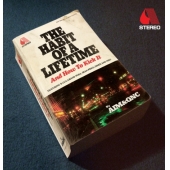 Aim & Qnc
He Habit Of A Lifetime ( And How To Kick It ) (Attic Records)
Hip-Hop
Availability: In Stock.
"Hip-Hop is a voice. To me it's like a voice of God that speaks to everybody. Back in the day it wasn't about money. Y'know what I'm saying'? It started off as something to do in the community. Hip-hop was one of the things to uplift. Now, these people gotta hold to it, they learnt how to market it, it became their power and their tool… And now it's our worst enemy."
Q Magazine – "a hearfelt tribute to hip-hop's early 90's golden age".
Mojo – "Throwback boom-bap whose class is permanent".
Monkeyboxing.com – This is the sound of the true school in 2015…One of the finest LPs of the year." 5/5
Groovement – "A banger of an album with that trademark sound…QNC shower this album with smooth lyricism over Aim's emotive production…It's definitely coming across as a love letter to the genre if not the industry."