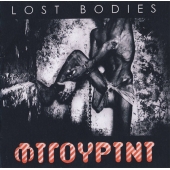 Lost Bodies
Figoyrini (Phase)
Post Rock / Avant Rock
Availability: In Stock.
Phase! is proud to release the latest Lost Bodies' statement "Φιγουρίνι", the long awaited new album which will definitely please every LB fan! Almost 80 minutes of the signature avant gags, power punk arena favorites and twisted bastard-folk experiments, including studio versions of gig highlights like "Παρίσι Ντακάρ", "Αξέχαστο", "Γελάστε" and "Ιλισός". Lone kings of the athenian underground for more than 25 years (even though, they delivered some wtf moments through Virgin in the early '00s), Lost Bodies possibly stand as the only example of a pure caricatural sarcasm on Greece's rotten guts through a musically-incorrect quintessence of how political correction should be defined.
Edition of 300 copies w/ full-color artwork.