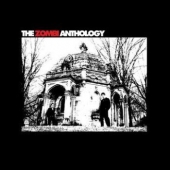 Zombi
Anthology (Relapse)
Post Rock / Avant Rock
Availability: Usually dispatched within 5-10 working days.
The Zombi Anthology is a compilation of the band's independently released (CD-R in DVD case; 150 copies) 2001 self-titled debut album, plus the Twilight Sentinel EP from 2003. This compilation was released on CD in 2003, limited to 200 copies.
The Zombi Anthology represents Zombi at the peak of their horror-score obsession.