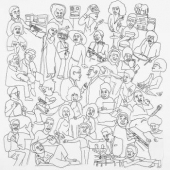 Romare
Projections (Ninja Tune)
Electronica / Ambient / Experimental
CD Digi / Cardboard €12.99
Sorry, currently out of stock.
Great dance music albums – albums that sound as good on headphones and home speakers as they do on club sound-systems – aren't easily made. In a form whose primary aims have been to move dance-floors and to move on, full lengths that thrill the head, heart and the feet with equal power are few and far between. We believe Romare has made one. With the gripping shock of the new that announces the best records of the genre – from Entroducing through Blue Lines to Ambient Classics - Romare has both a singular style, and great deal to say with it. "Projections" comes off like Voodoo Ray reworked by DJ Shadow.

The songs on "Projections" are an homage to elements of American/African culture in the USA – which Romare studied academically. Taking his name from Romare Bearden, the well-known cut'n'paste artist / collagist, and applying similar techniques to music. Romare re-imagines the profound cultural impact of the collage technique for a new generation of music listeners. With his signing to Ninja Tune, coming hot on the heels of his excellent 12"s on underground institution Black Acre, and compilation inclusions by Tiga, Bonobo and Brownswood, the stage is set for his debut album.