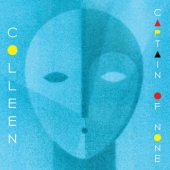 Colleen
Captain Of None
Label: Thrill Jockey
Genre: Electronica / Ambient / Experimental
Availability
CD Digi / Cardboard €11.99

Out of Stock
• Colleen is French multi-instrumentalist Cecile Schott, who uses her voice and the treble viola da gamba (a baroque instrument with gut strings), to weave intricate stories about the human mind and heart. 'Captain Of None' is the most melodic album in her repertoire, with fast-paced tracks rooted down by prominent basslines and assorted percussive effects. It is also an album that breaks new ground for Colleen in terms of production.

• While previous works centred around sample-based or looped, minimal compositions, on 'Captain Of None' Schott significantly changed her approach, setting her viola and her voice as focal points. 'Captain Of None' is inhabited by delicately crafted, other-worldly pop songs incorporating dub-inspired techniques.

• 'Captain Of None' was recorded, mixed and produced entirely by Schott in her music studio in San Sebastian, Spain. Schott tried to open the gates in the way she played, sang and wrote lyrics for the album and set out to explore how effects like delay and echo could go from the 'cosmetic sound varnish' role they usually play to a fully dynamic, constructive, song-shaping role.