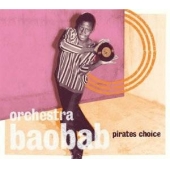 Orchestra Baobab
Pirate's Choice (World Circuit)
World Music
Availability: Usually dispatched within 5-10 working days.
'Pirates Choice' by the Senegalese band Orchestra Baobab is one of those rarest of albums, an undisputed classic. 'Pirates Choice' was recorded in two-track studios in one take - no overdubs, no second thoughts - and done with such ease and effortlessness that it has become truly a slice of history.

First released on World Circuit in 1989, the album captured the legendary Senegalese group Orchestra Baobab in one of their last studio sessions in 1982. The album is an undiluted, soulful and mellow session where the musicians laid down rhythmic grooves over favourite Baobab songs, revealing the huge influence Cuban music had on them. This re-release is remastered, repackaged and available on 180g 2LP for the very first time, is augmented with 6 previously-unissued bonus tracks including six tracks previously unavailable on vinyl. "Entrancing, deeply funky Senegalese session from 1982 sees the light of day" Rolling Stone "One of the best World Music albums of 2002. An even better album than its legendary reputation suggested" Boston Herald.