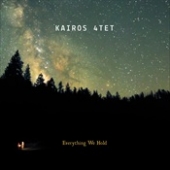 Kairos 4tet
Everything We Hold
Label: Naim
Genre: Jazz / Avant Garde
Availability
CD Digi / Cardboard €17.99

In Stock
Adam Waldmann is a young man with big hair, a big smile and big ideas. Just three years ago, the young saxophonist burst onto the scene with his band Kairos 4tet, delivering a stunning debut that swiftly positioned him as a cornerstone of the British jazz scene. With melodies that worm their way into your brain and stay there long after the final notes ring out, Waldmann is celebrated for his gift of bridging the elusive gap between crossover appeal and serious jazz cred.
Everything We Hold is Kairos 4tet's third album and first recording for Naim Jazz. This time, in a bid to push the boundaries of his own creativity, Waldmann explores in great depth the art of song. In doing so, Waldmann forged relationships that not only presented him with new musical vistas, but inspired him immensely on what became an exploration of the human condition. To that end, this album sees Waldmann collaborating with lyricist, film maker, and actor Rupert Friend (Pride & Prejudice, Young Victoria, Homeland), a writing partnership first hinted at on Kairos 4tet's second album, Statement of Intent. With one half of the album featuring vocals, Everything We Hold is Waldmann's most unapologetically diverse album to date.
For Waldmann, a socially conscious, deep thinker, the songs he wrote with Friend represent the relationships most important to him, yet have a universal essence. They reflect events that occurred during the past year, including reuniting with his band following time away due to injury, alongside compositions dedicated to, each member of his quartet. Framing the album is the instrumental suite, The 99 Parts 1,2,3 and 4 in recognition of the Occupy Movement and the phrase 'We are the 99%' that references social and economic inequality. "The reoccurring musical motifs both within the suite and referenced from the other songs" says Adam, "serve to remind us of connectivity on a wider scale".
One of three stunning guest vocalists joining Waldmann is Irish singer-songwriter Marc O'Reilly who lends his husky voice to three stand-out tracks including the incredibly moving Ell's Bells, a lullaby for Waldmann's niece. Soul star Omar, who Waldmann met at 2011's MOBO ceremony while collecting his Best Jazz Act trophy, appears on the album's ripe-for-radio, Song For The Open Road, a song about finding ones' true self. Finally, no stranger to Kairos fans having appeared on both previous recordings is Swedish singer Emilia Mårtensson, whose wistfully intimate voice is heard on the haunting song, Narrowboat Man, an ode to friendship, alongside three others. With the addition of accordion, French horn, harp, cello and even glockenspiel, Everything We Hold represents a giant leap forward for this precocious talent.
For Waldman, there was only one creative genius that could fill the producer's chair - conductor, composer, musical director, founder of the Heritage Orchestra and one of his oldest friends, Jules Buckley. Having worked with some of the country's biggest artists, from Arctic Monkeys and Basement Jaxx, to Anthony and the Johnsons and Michael Kiwanuka, Waldmann knew that Buckley was just the chap to help frame this broad and challenging body of work. "Jules is probably the most natural musician I have ever met, and the string arrangements he did for Narrowboat Man and Ell's Bells are really wonderful. He's helped realise the potential, both sonically and creatively, that I was after"
There's no doubt that while Waldmann has presented a remarkably accessible collection of compositions, the Kairos 4tet trademark qualities remain. At the very core of each song is a lyrical, melodic quality and exceptional inventiveness. Waldmann, a graceful player, displays remarkable talent whether on breathy tenor or quirky soprano, and with bassist Jasper Hoiby's muscular basslines, Ivo Neame's dazzling piano and Jon Scott's solid drumming, the quartet allow a sharp improvisational edge to shine through. Born through the sophisticated and compelling interplay between a quartet with incredible rapport, Waldmann's band mates have achieved the difficult task of performing their band leader's songs, rather than simply presenting a quartet with a vocalist.
Produced by Jules Buckley