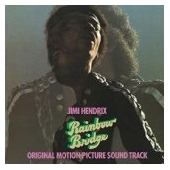 Hendrix Jimi
Rainbow Bridge
Label: Sony
Genre: 60s / 70s Rock / Pop / Progressive / Kraut
Availability
CD €13.99

Dispatched within 5-10 working days
Originally released in 1971, Rainbow Bridge premiered signature classics such as "Dolly Dagger" and further outlined the exciting new creative direction in which Hendrix had steered his music. Rainbow Bridge is often misconstrued as being an entirely live album, being that the film of the same name features excerpts of a live Jimi Hendrix performance in Maui. However, Hendrix had no role in the creation of the rambling, unfocused 1971 film which was directed by Chuck Wein. The film was not a Hendrix project in any way but instead an independent vision of his manager Michael Jeffery. After Hendrix's death in September 1970, Jeffery scrapped Hendrix's original vision of a double studio album titled First Rays Of The New Rising Sun and called for Kramer, Mitchell and Jansen to compile two posthumous albums - including one that would that would serve as a soundtrack for the Rainbow Bridge film.

Beginning in the late 1990s, the tracks on Rainbow Bridge were reassembled into various compilations, including First Rays of the New Rising Sun, South Saturn Delta, and The Jimi Hendrix Experience box set. Now, fans of all ages will be able to enjoy the songs as they were experienced when they first became available 43 years ago.

Rainbow Bridge has never before seen an official CD or vinyl release. This release has been remastered by Bernie Grundman from the original analogue masters, and uses the original album artwork.