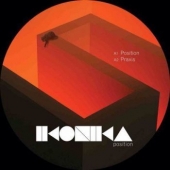 Ikonika
Position Ep (Hyperdub)
Electronica / Ambient / Experimental
Availability: In Stock.
'Position' kicks things off with rough kicks and snares that sound like they've been created in a foundry, mixed into rolling kicks lifted from a crumbling drum machine and vocals sliced and diced into sharp hallucinatory rhythms. 'Praxis' sounds like a track that could have come from her groundbreaking 'Contact, Want, Love, Have' debut album, except the straightforward melodies with droning synths and steamy drums over growling bass give the track a confident upgrade.
'Strawberry Underlay' builds melody lines over a single basic, repeating riff in quick succession while a series of interchangeable, tight old school drum patterns stop and start underneath in quick succession. It's a brilliant exercise in dynamics and tension. 'Wakeup Sequence' sounds like freestyle pop driven into strange Atari game shapes, bubbling arpeggios, rough, funky melodies, ancient drum machines, and distorted guitar synth and weird squeaks.