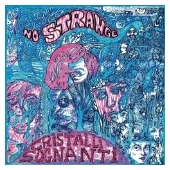 No Strange
Cristalli Sognanti
Label: Area Pirata
Genre: Rock / Pop
No Strange is an Italian rock group influenced by psychedelic music that combined elements of rock and cosmic music. It was formed in Turin in 1980 by Salvatore Ursus D'Urso and Alberto Ezzu.

At the beginning they play a kind of comedy Punk and they are called NoStrani, but soon they turn to a psych sound and release a demo called 'Rainbow' in 1983 and another one in 1984 called 'Lisergic tomahawk' attached to the Roller Coaster 's fanzine.
At this point the band start their collaboration with Giulio Tedeschi, boss of the Toast Records.
In 1985 No Strange release with his label, their great debut album simply called 'No Strange' (known as 'Trasparenze e Suoni' as well). Their sound is something absolutely original and they take part in the Neo psychedelic Italian scene whose interest was in the sound but also in the air-cut and clothes of British and American bands of 60s and 70s. No Strange benchmarks included the first Pink Floyd, Brainticket, Soft Machine and Third Ear Band but mainly the early works of Tangerine Dream, Ash Ra Tempel and Popol Vuh, with whom they shared a common musical and spiritual quest.
One year later they release a single "White bird"/"Fiori risplendenti" and then in 1987 they record their second album 'L'Universo' and in the meantime they give a song for the historical compilation 'Eighties Colours' made by Electric Eye Records and are involved in a double Lp compilation called 'Oracolo' recording an entire live side!
Away from any kind of 'revival' they prefer to create a new original sound even inspired from the late 60s and the early 70s. This will be confirmed again from their third album 'Flora di romi' released in 1991.
No Strange start to work on this album from 1988 with a different line up made from Laura Tommasi (winds), Paolo Avataneo (bass guitar), Sandro Becchis (guitar), Pino Molinari (keyboards), Lucio Molinari (percussions) and Ursus (vocals). Artistic production and arranging will be made by Alberto Ezzu.

In 1992 the band has a long break, except for a mini album released in 1998 called 'Medusa' and played from Ursus,Tony D'Urso (Ursus brother's) and Fabio Maffia at the keyboards... Until 2008, when Ursus and Alberto Ezzu decide to reform No Strange along with Pino Molinari, Lucio Molinari, Tony D'Urso and Paolo Avataneo. That's a mix of the many line ups the band got in the 80s. Later Rosalba Guastella join them as choralist.
And finally, nowadays, they record this a fresh and dreamy sound, moody original new album!