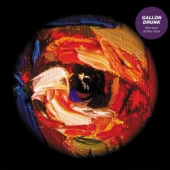 Gallon Drunk
Soul Of The Hour
Label: Clouds Hill
Genre: Rock / Pop
Availability
CD Digi / Cardboard €17.49

Dispatched within 5-10 working days
After the critical success of their acclaimed album "The Road Gets Darker From Here" from last from 2012, Gallon Drunk have returned to their producer Johann Scheerer's Clouds Hill studio in Hamburg. Together with new bassist Leo Kurunis, Gallon Drunk have created their most exciting, passionate and groundbreaking work to date - "The Soul Of The Hour". A howling celebration of survival and creative drive against the crushing weight of day-to-day existence, "The Soul Of The Hour" finds Gallon Drunk pushing ever further into previously uncharted musical territory for the band.
With an emphasis firmly upon hypnotic, locked down grooves, free flowing instrumental passages and all manner of European inspirational music that courses through the band's collective bloodstream (singer/guitarist, keyboard player James Johnston was a member of Faust), Gallon Drunk have stretched out their music into thrilling and unfamiliar shapes. Though always present in Gallon Drunk's music, the band has thrust the leftfield aspect inherent in their sound to the fore - with exhilarating results. An emphasis upon a more focused, disciplined attack has fashioned a compelling musical wall of sound of considerable power, melancholy and fury. "The Soul Of The Hour" offers heartfelt songs of dread, sadness, love and anguish, ever reaching for the transcendent moment within the incessant race against the passage of time. Opening with the epic "Before The Fire", which lets the tension and momentum build over mesmeric nine minutes, the album then explodes with the wild, brutal euphoria of "The Dumb Room", and the relentless hypnotic Krautrock of "The Exit Sign", continuing with the album's immense title track, "The Soul Of The Hour", the unsettling tension carried by Johnston's haunting vocal before erupting into a wild explosion of Ian White's relentlessly heavy drums and Terry Edwards' glorious brass section.
Throughout the album the playing of Leo Kurunis proves key to the new sound of the band, as evidenced in the subtle and sympathetic playing on "Dust In The Light", where rolling toms carry an uncharacteristically fragile upper register vocal from Johnston, without doubt the most beautiful song the band have put to tape, it's ghostly feel reminiscent of Big Star's Third. Penultimate track "Over And Over" is washed over by waves of synthesizer, an immense and dream-like song of anguish and yearning. Finally we reach the album closer, "The Speed Of Fear" where James Brown meets motorik European psychedelia, insistent vocals and extended, hypnotic freak-outs building to a crushing final chorus. "The Soul Of The Hour" marks Gallon Drunk's return in a style of it's own, and with an album of true sonic brilliance.