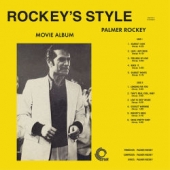 Rockey Palmer
Rockey's Style Movie Album
Label: Trunk
Genre: Soundtrack
One of the rarest, weirdest and most brilliantly odd soundtracks of all time, written and performed by one of the most fascinating underground characters ever.
Described by Jello Biafra as "a disco lounge lizard from hell", Palmer Rockey and the Palmer Rockey story have to be read to be believed, and even then you might not believe it.
And this album has to be heard properly to understand the madness, weirdness and total passion brought to the studio sometime in Texas in the mid to late 1970s. Palmer Rockey was a remarkable con-artist. He made this one record, the soundtrack to his one weird movie. It's incredibly rare, only one copy surfacing in the last decade. Once heard you may fall deeply for Palmer's charms, it's strangely moving and all wrong, like something straight out of the world of David Lynch.
The edited Palmer Rockey story goes something like this: after a difficult childhood but an interesting education, Palmer Rockey became obsessed by the movies. So obsessed that he travelled to the UK and tried to get a film script to Boris Karloff in Shepperton. Unsuccessful, he returned to Texas to make his own film. To do so (according to legend) he conned rich Texan housewives out of money. When he got money, he shot film, then fell out with the cast and crew. He then conned more money from different women, shot more film with different cast and crew, then fell out with them too. This continued for years. The "finished" film, It Happened One Weekendwas only shown once (ironically just once, one weekend), at the premier in Canyon Creek, Sunday October 11th,1974. In fact the photo on the front of the album was shot by his wife the night of the premier. The film was written, produced, edited, directed and starred Palmer Rockey (as twin brothers of course), with all music by Palmer Rockey. The plot was apparently demonic and "beyond the room of terrifying evil". Also included was a "Sunday Surprise Ending". I believe the surprise that Sunday was that people laughed all the way through, and even walked out. It was a total disaster on every level, apparently nothing in the movie made any sense at all. But undeterred by such poor reaction he continued to tinker with the film – sure that it would eventually bring him an Academy Award. He released it again and again in several different versions over the next few years, firstly with the titleIt Happened One Sunday,which played briefly in Denver, El Paso and also at drive-in theatres. The film then disappeared, was recut with new scenes and appeared again in 1980, asRockey's Style,Scarlet Loveand also Scarlet Warning 666. All the while Palmer Rockey was battling debtors, having already been sued in the 1960s by his uncle for non-payment of loans. There's not a great deal of information about his career and life in the 1980s, but we do know he passed away in 1996, leaving behind very little apart from debt and this unusual self-pressed album. There is no sign or trace of any version of the film anywhere. And boy, are people looking for it.
Palmer wrote all the music for the film(s), and there are, as far as we know two private issues of the soundtrack from the same period - 1980. There'sScarlet Love, which was followed (or it's possibly the other way around) days or weeks later as he'd decided to change the name of the film again, toRockey's Style. Both have the same original catalogue number and subtitle of "Movie Album", and both have track titles that do not match the albums. You will observe we have kept the original and incorrect tracklisting on the album sleeve, but kept the correct ones on the album and CD labels.
Musically it's beautifully played and oddly performed, with a bizarre sense of passion and surprising honesty. It's an unusual album in that once heard it sticks like glue to your brain. You may well find your self getting slightly obsessed by it. We certainly have. Sleevenotes include an intro by Jon Brooks of Ghostbox, who not only remastered the album but also quickly became consumed by the music and the Palmer Rockey story. And now this incredible and unique outsider album is released we have to wonder if anyone will ever find the missing Palmer Rockey movie…