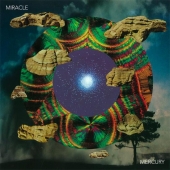 Miracle ( Moore Steve & O' Sullivan Daniel )
Mercury
Label: Planet Mu
Genre: Electro / Electro-Rock
Availability
LP €7.99 Nice Price

Out of Stock
'It was an unstable period. Mercury is the barometer. Songs of innocence and experience, death and rebirth. The grey matter in between duality and the duality of grey matter. Christmas, changeling, nostalgia, time machines, stigmata'. Miracle's debut album is a collaboration between two artists with a rich history in music you wouldn't immediately associate with Mercury. Daniel O'Sullivan has played and sung in bands such as Ulver, Mothlite, Grumbling Fur and Guapo, while Steve Moore has recorded as half of the Italian soundtrack inspired synth band Zombi, and on dance labels such as Kompakt and more recently L.I.E.S. In fact it was on a Guapo/Zombi tour in 2006 they first met, with the music starting to trickle out slowly around 2010. Initially the music was intended as an instrumental dance project, however the project started to take on a life of its own when Daniel started to add vocals and lyrics.
The music on Mercury is definitely cosmic, but not oversimplified or facile, oddly both men say that an almost subliminal influence was the 1987 Joel Schumacher film 'The Lost Boys'. There are anthemic power ballads on there but it also has an unstable tension and is rich in atmosphere, with songs at times pulling on Steve Moore's love for the grainy fog of Italian horror soundtracks, plus the lyrics have an almost occult introspection, troubled, elliptical sentiments animated by choral rounds and harmonies. Maybe it was the length of time it took to make, but each song sounds like a chapter, with a unique mood. The collage begins with the tender and devotional 'Good Love', a canticle through the looking glass. A euphoric twist in theme beckons synthpop fireworks with 'Something Is Wrong', while 'Automatic And Visible' channels 80's synth funk sass into something stranger. 'Falling Into The Night' is pure 80's soundtrack pop, while 'Neverending Arc' drops away into shadowy territory, pumping arpeggios and tense, airy synths.
The mid point of the album is the sleepless, late night/early morning bliss of 'Mercury', crossing huge, beautiful chords with scattershot beats and rising tones, Daniel's stream of imagery pouring out over the top. 'Breathless' takes the mood downwards again, like an ugly mutation between Metallica and early Prince, with a sense of exhaustion to match. 'Wild Nights' finds its sense of optimism and resolve. The final drift is towards a warm resolution and spiritual uplift, with 'Organon' a blissful drone over elegant beats, moog, bells and chanting, where all the tension dissolves into deep satisfaction.