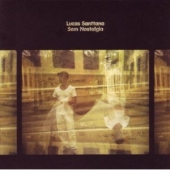 Santtana Lucas
Sem Nostalgia
Label: Mais Um Discos
Genre: Freestyle / Nu Jazz / Funk / Afro
Availability
CD Digi / Cardboard €18.99

In Stock
On 'Sem Nostalgia' Lucas Santtana has re-imagined the sonic possibilities of acoustic guitars and voices to create a modern electro-acoustic masterpiece that introduces a powerful new song-writing talent.
Using samplers, pedals, filters and non-conventional recording techniques, Santtana has created a haunting, disorientating and forward thinking work: "There are two types of pleasure from music" adds Santtana "The first is from what sounds good to the ears and the heart and the second is from trying to understand it, even what you don't enjoy it. I listen to free jazz, rock, samba, Afro-beat, reggae, experimental, classical, and pop – absolutely everything and I'm not prejudiced against any style. What interests and inspires me are musicians that do not think of harmony, melody or rhythm but of layers of sound. I am not interested in the specific guitar chord but in it's texture – and overdubbing these layers, these musical textures, is what inspires me".
"On certain tracks, software and samplers helped me make the acoustic guitar sound like a band and on those with just vocals and guitar I used ambience to add depth. Ambient musical sounds are always around us but since we live in a visual world our ears are always in second place, yet I grew up in cinema theatres and so I know what's possible with ambient sound. As a photographer opens the aperture as wide as possible to capture as much light so I left the microphones wide open to capture everything."
Equal parts Tom Zé and Thom Yorke, Santtana is one of the most interesting, dynamic and experimental singer-songwriter-producers from a new generation of Brazilian musicians – a generation that according to Santtana "doesn't fit into any existing genres of Brazilian music". He adds: "Our music could be produced anywhere in the world and has international influences as much as Brazilian: it does not fit into any pre-disposed clichés of tropical, colourful music". Santtana called upon this new generation to help him realise his vision. His long-term song-writing partner is former Ambitious Lover Arto Lindsay with whom he co–wrote "Hold Me In", "I Can't Live Far From My Music" and "Night-time in the backyard". Quannum Projects' Curumin turned guitars into percussion on "Cira, Regina e Nana" and "Amor em Jacumã", 'the Brazilian Vampire Weekend' Do Amor made four instruments become one on "Who Can Say Which Way", Man Recordings' artist Joao Brasil produced the frenetic "Violão de Mario Bros" and Buguinha Dub – sound engineer for the legendary Nação Zumbi – created the space within "Amor em Jacumã" and "Cira, Regina e Nana".
Long before his 30th birthday, Santtana had absorbed more music than most musicians encounter in their lifetime. Born in Bahia in 1970 Santtana was discovered by Brazilian heavyweights and fellow Bahians Gilberto Gil and Caetano Veloso in his early twenties and toured with both in the mid 90s. He then worked alongside musical mavericks Chico Science (Nação Zumbi) and Arto Lindsay, and at the turn of the century, released his debut album 'Eletro Ben Dodô', followed in 2003 by 'Parada de Lucas'. In 2006 he released '3 Sessions In A Greenhouse' and experimenting with Afro-Brazilian rhythms, samba, rock, funk and dub he hit upon the experimental, open sound that is now his trademark.