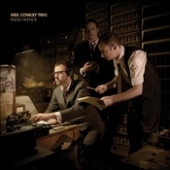 Cowley Neil Trio
Radio Silence
Label: Naim
Genre: Jazz / Avant Garde
Radio Silence is the sound of a band fully comfortable in their unique sonic skin. And if an album is simply a snapshot of a work in progress, then this is a perfect portrait, capturing Cowley and his co-conspirators in the right place at the right time. This is the record that he has been working towards, documenting the magical empathy of a unit, who, with thousands of hours under their belt have learnt to breathe and listen as one.
Described by Cowley as music for the 'heart and feet', Radio Silence shifts effortlessly between moments of poetic grace, rip-roaring riffs and Chaplinesque ditties that reminds us that for all his many influences, Cowley's music is as British as 'Test Match Special', warm beer or a bacon sarnie. After all, it is Cowley who played the elegiac intro to Adele's London hymn Hometown Glory and likewise, his own music is just as rooted in where he comes from. This is music born in London pubs, on stage at Glastonbury, in suburban side streets and the banter of the tour bus, with results that are as enthralling, heart-warming and gripping as the very best in contemporary music.
Take for instance, the gorgeous title track which invokes the sudden and stark realisation, that someone you love is no longer close to you. It is a deceptively simple but highly effecting tune propelled by the bands intuitive group interplay and conjures moments of sheer beauty. Elsewhere, Gerald is an affectionate portrait of a geeky friend and part-time guitarist who likes to "wig-out" at the weekend, while the epic, blissful Portal expresses a child-like sense of wonder before the cosmos. Vice Skating is a lyrical tour-de-force and the raucous Hug the Greyhound is partly inspired not only by the impossibility of such an act, but is also a wry nod at his own manic energy levels, and it is this restless drive that pushes Neil Cowley Trio towards greatness.