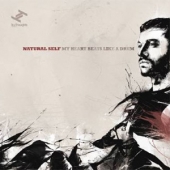 Natural Self
My Heart Beats Like A Drum
Label: Tru Thoughts
Genre: Freestyle / Nu Jazz / Funk / Afro
Availability
CD €6.99 Nice Price

In Stock
My Heart Beats Like A Drum' is Natural Self's glorious second solo LP for Tru Thoughts, and a more appropriate album title you'd be hard pushed to find: anyone familiar with the forward-thinking producer's dazzling way with a beat will testify that an instinctive, bold use of rhythm has always been at the core of his music. And while his finely crafted rhythms continue to move and shake, on this album the funk and retro influences of his previous releases give way to a more experimental palette of future-looking electronica and synths, interwoven with pristine multi-layered harmonies from guest vocalist Elodie Rama (and Natural Self himself) and intriguing compositions.
It's officially out on Monday 19th October, but you can listen to the tracks and pick up your copy now on the Etch Shop.
Here's some of the buzz so far:
• "Grabbed me straight away and had me hitting repeat 2 or 3 times…definitely going to be in regular rotation on my iPod" – Soul UK
• "Nice variety of beatsy funky stuffsy with sweet melodies" – Certified Banger
• "Editor's Choice – Album of the issue" – The Night Times
• "Featured on the Round Up Podcast" – DataTransmission.co.uk
• "Hot!!" – DJ Emskee (NYC)
• "Love It!" – Simon Harrison (Basic Soul)
You know it's going to be good.