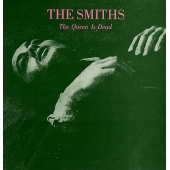 Smiths
The Queen Is Dead (Rhino)
80s Wave / Rock / Pop / Punk
LP €18.49
Sorry, currently out of stock.
180g G/FOLD LP reissue with download code on Rhino inc MP3 download code.
Rhino UK is pleased to announce the launch of "Vinyl Plus+", with the re-issue of the four Classic studio albums by The Smiths; 'The Smiths' (1984), 'Meat Is Murder' (85), 'The Queen Is Dead' (86) and 'Strangeways Here We Come' (87). All feature newly re-mastered audio by Frank Arkwright (overseen by Johnny Marr, no less) & the original sleeves, (a gatefold in the case of 'The Queen Is Dead'), labels & original inner bags, pressed on high-quality 180 gram vinyl.